Gallery page one
---
I thought I'd send the pictures of my sisters van "Bertha" currently being worked on in the garage.

---

1968 Dutch ambulance, owned by Mark who has just moved to North Wales, near us!!!!

---

Thought I'd send you a piccy of my '66 splitty cos she deserves a little fame I reckon! I bought my '66 splitty (affectionately called Emm) from Keith @ VW Relics in York in January 2000. Since then I've stripped out the awful black hammerite, blue, white and varnished wood interior and built up a new interior based upon a few of the salvagable bits of wood and repainted it all in a white-stain wood wash. She was resprayed in March last year in a slightly brighter baby blue and white although I plan now to change this to a super-deep burgundy and cream when money allows! The bloody uncomfortable and torn original seats have been replaced with a pair of Porsche seats from a '78 Porsche 911SC which are about to be reupholstered in cream leather-look vinyl. She cruises around on 15" Porsche Fuchs (late style on the front and early deeper-dish ones on the rear shod with 195/45's all round) and chops the weeds with the aid of a 2 spline drop at the rear and a cut 'n' turned beam at the front. The awesome power out back is provided by a fire-breathing Vega 1600 twinport currently sporting twin 36 DRLA's, a Maxi-flow oil pump and Mahle filter and is monitored with the aid of a few Autometer Ultra-Lite gauges. Future plans include an IRS conversion, a 1776 Engle 110 cam lump, full length sun-roof and a more customised interior.

---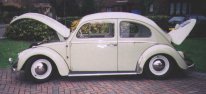 This is my 1963 Beetle I have had it for about a year, it's got a 1200cc standard lump and has been lowered My 10 month old son loves going out in it (seat belt in the back) and we get a lot of people commenting on it. All original inside which needs a little tidying but not a lot.

---

This is my 1982 T25 panel van. I have owned it for just over a year now and haven't really done much to it. It is my first Vw so I am still learning. It has a 2 litre air cooled engine and is fitted with replica empi 5s. I have had a new offside sill made up and welded into place and will be sorting out the paint as well...soon. At the moment I am fitting new push rod tube seals as they are leaking, then it will be new heater cables as they were not connected when I got it??? My aim is to fit a seat/bed type thing but not to fully convert it. I do not want to cut it about for windows...it seems too cruel (how sad am I).

---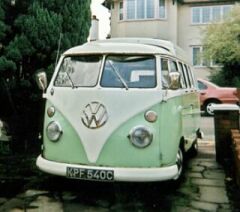 Here's ours... '65 Devon conversion called Gladys.


---


US spec LHD westfalia campmobile type 4 1.8 dual carb engine owned by Matthew Macfarland.


---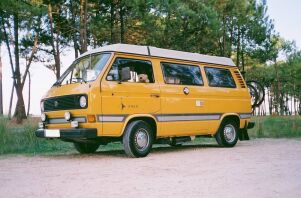 T25 aka Boswell Bear owned by Andy Pearson - see summer edition of Camper & Commercial Magazine!
---

Put your VW here
---
Home