Type 25 - 1981 Westfalia Joker
Click any image to enlarge
---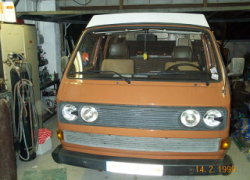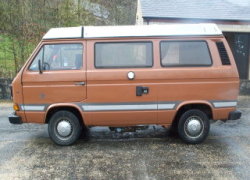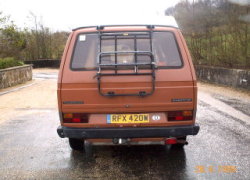 ---


It had to come - a second camper. My Devon Baywindow is going to be off the road for another few years while I finish my house so I needed something that did not need much work - what else apart from a T25. I bought the Westy off Ebay with the intention of keeping until the summer and selling it when the prices were high. Once I had collected it and seen the condition, I had to keep it. Collecting it was the problem though - it was in Dorset - 450 mile round trip which began at 5am and ended at 9pm. - but it was worth it.

So what is it? Well its a 1981 T25, Westfalia Joker imported from Germany in 2003. Being a 1981 it is still air cooled and is 2000cc engine based on the T4. Condition wise its very good (for what I paid for anyway). It appears to be in good condition. Its done 106,000 miles which looks genuine as it has loads of service history. The interior is in excellent condition and being a Westy, it has everything:



Swivel Front seats
Petrol Heater
Double Glazing
3 way fridge
On board battery charger
2 double beds
Under floor LPG gas tanks for the cooker
Water tank
Water Pump



Plus lots of other stuff. Bad point? Not too many. The offside rear wheel arch has been badly repaired in the past. This looks like a scrape rather than rust so I can live with it for now. Poor engine performance. The vacuum advance on the dizzy has perished, one choke is sticking on and the hydraulic tappets rattle if left for a week. All easily done, if I can find the parts. I was surprised how difficult it is to find T25 parts compared to Bay windows.The performance is really poor. Much worse than my 1700 Bay. A quick trip to Angelsea nearly drove me mad, it was so slow. As soon as I find the parts needed, I will fire up my Crypton tuner and give it a full service and may even put it on a rolling road to get really set up.






Immediate plans are to fit a independent 12v fuse box system (details to follow) and a inverter and just use it for the summer as it is. The first weekend I have used it went really well. Much more room than my Bay window. Just wish the last owner had told me that the waste pipe from the sink was broken - another job to the list.
---
Home